The new standard in brass band instruments
Working together with World-renowned brass band conductor Bill Millar, our technical staff started with a clean slate creating numerous euphonium prototypes, redesigning each part and component until all agreed that the ideal brass band sound that we were seeking had been attained. This new euphonium delivers a tone that blends well with baritone and tenor horns. Powerful with excellent projection, it produces the tone color that soloists require in an instrument.
Body Design
The instrument's main tube utilizes a new design that maintains adequate resistance, delivers a powerful low range and focused high range, and improves dynamics over the instrument's entire range. In addition to a matured and comfortable tone, this design offers accurate pitch while delivering greater musical expressiveness.
Handrest
Changing the handrest position to allow for a more natural hold on the instrument simplifies fingering and offers smoother performance while playing demanding solo or ensemble passages.
Hard Case: EPC-63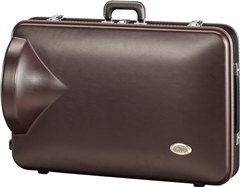 Specifications
Key
Body
Bell Diameter
Bore Size
Height
Valves
Finish
Mouthpiece
Case
YEP-642SII
YEP-642SII
Key
Bb
Bb
Body
Yellow brass
Yellow brass
Bell Diameter
300mm (11 4/5")
300mm (11 4/5")
Bore Size
15-16.8mm (0.591-0.661")
15-16.8mm (0.591-0.661")
Height
664mm
664mm
Valves
3 top + 1 side, compensating
3 top + 1 side, compensating
Finish
Silver-plated
Clear lacquer
Mouthpiece
SL-51L
SL-51L
Case
Included
Included
Bill Millar - Euphonium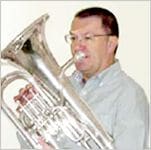 [Professor, University of Salford]
When trying a new euphonium a number of things are for me of paramount importance.
The first thing I would consider would be the comfort of hold, the positioning of the lead pipe and the hand rest are of particular importance. In this respect, I found that these were positioned ideally on the Neo to provide a comfortable hold when adopting a correct upright posture. Quality of sound is for me the single most important feature of any instrument. I would be looking for an instrument that has both a resonance and a clarity of tone.
With the Neo I found both of these qualities in abundance throughout the dynamic range. The modern day repertoire for the euphonium covers a range of more than four octaves so players need an instrument that they know will perform well at the extremes of the range. Again the Neo exceeded my expectation in this regard, performing with ease at the highest and lowest extremes of the euphonium register. The valve action on the Neo is both smooth and solid, providing an ease of execution when playing rapid passages and a sense of security in slower music.
This is an instrument that combines depth and clarity of tone with great projection, responsiveness and character, it truly is a joy to play and I give it my highest possible recommendation.
Steven Walsh - Euphonium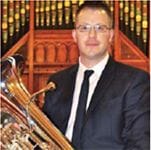 [Principal Euphonium, Brighouse and Rastrick Band]
The Yamaha Neo Euphonium has an unrivalled depth in tone and accuracy of tuning throughout the whole range of the instrument. These attributes can be projected across any ensemble with consummate ease.
This newest addition to the Neo range allows a performer the opportunity to portray their musical ideas with absolute comfort, culminating in a classic British Euphonium sound.
Yoshihiko Matsukuma - Designer of Neo Euphonium and Tuba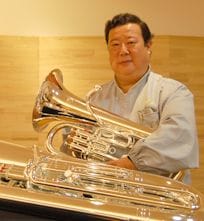 Yoshihiko Matsukuma previously worked on the development of Viennese instruments with members of the Vienna Philharmonic Orchestra, has been involved in Yamaha's acoustic research division and is a developer of the Silent Brass. He is now working as a brass instrument designer focusing mainly on tuba and euphonium.
What made you decide to develop the Neo?
It all began with a request from professional players. They wanted an instrument that had a broader, softer sound than other Yamaha brass instruments at that time and also wanted to be able to bring out its "tonal" and "expressive" appeal when he was applying force whilst feeling comfortable resistance. During the course of development, I visited the UK several times to study what kind of people played the instruments and in what way. I felt the real sound vibration that I couldn't get just by listening to CDs, then I thought about how to apply it to the design of new instruments. Firstly, I made prototypes in Japan, and then I flew with them to visit the Yamaha Atelier in Hamburg to make continuous improvements, where I had artists to evaluate them and technicians to modify them with tools and parts.
What did you discover in the UK?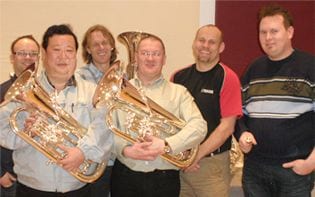 (Picture:With Bill Millar and technicians of Yamaha Atelier Hamburg.)
The performance level of ordinary players. I could see the real way in which ordinary people play in the UK. I learned which factors of performance were of particular importance. Tonal quality or sound volume? Playing a quick passage? Or tuba players' pride in playing low register? Artists coming to Japan are generally famous players. They are highly skilled soloists and can usually play to a very high level on almost any instrument. They are not used to playing in ensembles where the sound has to blend with players of different abilities and on different instrument makes. This is how you learn which notes in an instrument may have intonation problems. Listening only to advice or a sound given by those who do not play in these situations doesn't help you. It meant a lot to me to witness the real situation in the UK. Unlike Japanese school bands, British bands have various members within a band, from children to more mature adults. British bands have an atmosphere and environment where young members watch and learn from older players. I knew this in my head, but it was great to actually see and feel it.
Can you tell us an episode about the development?
The major contributors who played a big role in developing the instrument are Thomas Lubitz and Eddie Veit, technicians of Yamaha Atelier Hamburg. They are my dear colleagues who share the same ideas and technical goals. It is very important that a technician and a designer can discuss technical matters on the same level. For example when they talk about how to deal with a player's request, they should be able to say something like "Ok it has tonal merit but also has demerit in intonation." on the same level. Also, when the Neo Euphonium was completed, Steven Walsh, Principal Euphonium of the Brighouse and Rastrick Band, praised it referring to it as "the best traditional British euphonium". His recognition of it as "traditional" was just what I wanted, so I was very happy.
Is there anything you are particularly committed to in designing an instrument?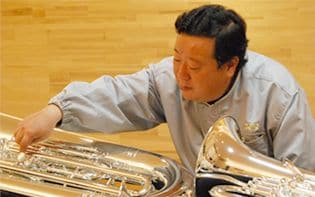 Regarding the Neo, it's the balance between tone and resistance. When I try to increase the resistance, it can sometimes be carried too far. So I balance it with tone by stopping raising the resistance when it reaches a certain point to prevent the tone becoming too solid. In addition, a good balance of comfortable blow and resistance throughout all registers, smooth connection of notes and accurate intonation are also important. Such things, which some older instruments lacked, have been achieved as a result.
Is designing an instrument a calculation or a feeling?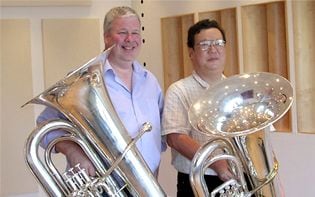 (Picture:Matsukuma with Simon Gresswell.)
Matsukuma with Simon Gresswell. In the end I would trust my instinct. I can calculate tube bore size to some extent, but calculating its wall thickness, which I sometimes do for manufacturing purposes, isn't very useful for sound. For example, when I have a player try several instruments, I watch their facial expression whilst listening to their sound. When I ask for the player's opinion after the trial, I sometimes notice that the response is different from the sound produced. Also in some cases, I receive overseas player's feedback on an instrument from our overseas staff via e-mail, which can be easy to misunderstand. To avoid such things, I go abroad as much as possible to hear the sound by myself, see the look on player's face, and think it over myself, while hearing the views of others being there and hearing the same sound. Hearing only words definitely leads to misunderstanding. For example, when a player tests another make of instrument and says "I like this kind of sound", if I am there to hear the sound with my ears, a drawing comes to my mind. Then my instinct starts to work for the drawing to determine the wall thickness, within 0.1mm range. Designs happen like this. They can't be calculated.
What do you think is required to be a designer of musical instrument?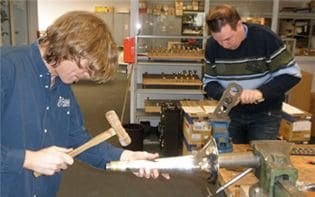 (Picture:Thomas Lubitz and Eddie Veit at Yamaha Atelier Hamburg.)
Thomas Lubitz and Eddie Veit at Yamaha Atelier Hamburg. I think a designer has to understand things both in theory and in feeling. Being good at only one or the other is useless. Once you get the both, like I've just mentioned the wall thickness, listening to a tone instantly gives you an image of spectrum. Seeing only one part of a brass instrument makes you imagine the whole thing. Like an X-ray picture, it appears transparently over the part. Then I would say "OK, let's change it by XX mm" to improve it.
I want to absorb both theory and feeling by consistently balancing them without being one-sided. I believe I should do. A designer should be automatically able to imagine a design drawing when listening to a player's sound.
And he or she should be able to know if an instrument produces a good sound by seeing its design drawing. I believe that "an instrument to pursue" can be found by linking what you can tell only by feeling and what you can tell only in theory
Yamaha. YEP-642SII. Neo Euphonium. Yellow brass, Finish: Silver-plated
Produsent: Yamaha
Varenummer: YEP-642SII
Tilgjengelighet:

Pre-Order
Kr72.180,00

Ekskl. mva: Kr57.744,00
Lignende varer